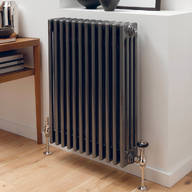 Hydronic Heating: a superior water heating solution
---
Hydronic heating is one of the most popular home-heating solutions today. It functions by circulating warmed water through radiators, radiant tubing in one's ceilings or floors, or through warming baseboards.
Hydronic heating is known for being safe, quiet and efficient. Hydronic heating has multiple benefits, some of which include a lowered environmental impact, lowered energy costs and the fulfillment of multiple home-needs, from indoor insulation to pool-heating. After factoring in the saving a homeowner will enjoy after installing hydronic heating systems in their home, the initial expense of installation becomes more worthwhile. Homeowners can expect to save up to 40% on their heating costs if they switch from regular heating mechanisms, such as electricity or forced-air systems, to hydronic solutions. The initial cost of installation can therefore be reclaimed in the long term.
Hydronic heating comes in many types, some of which includes tankless hydronic water heaters, solar water heaters, combined solutions, and geothermal heat pumps. Tankless hydronic water heaters are structured to provide immediate heated water and are smaller than non-hydronic, tankless water heaters, thereby making them a more convenient and energy-efficient option for homeowners.
Combined systems blend the functions of hydronic heating systems and traditional electronic heating systems for use in the home. This is a beneficial option for homeowners who only want to use hydronic heating for one section of the home, such as pool heating.
Solar water heating is a perfect option to use in conjunction with traditional heating mechanisms in the home. This is because solar water heaters may not be able to provide a reliable source of hot water for all the needs of the home, but can be very efficient in one area of home-heating. For example, a solar roof panel that heats water pumped through it, can provide an extra source of hot water that takes the strain off water boilers in the home.
Finally, remember to consider the more original uses of hydronic heating, such as melting-snow mechanisms and heated pool systems. Hydronic heating can be very useful for homeowners who experience periods of snowfall or the icing-up of driveways and paths during winter. Hydronic heating systems set into sidewalks or sections of driveway can allow for snow and ice to melt and drain away, thereby helping homeowners avoid the hassle of shoveling snow and the danger of slipping on iced-up paths. Heated pools are another area where hydronic heating systems excel. To prolong swimming seasons, homeowners can rely on hydronic heating for energy-efficient and reliable heating.