Portable and Temporary Carports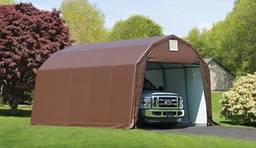 Portable Garages are a crucial thing you need to protect your car if you don't have the garage or dedicated carport. they can protect your vehicle from the ever changing weather conditions, although other ideas for protecting your car have been made like a car blanket, these would not help against hail storms and can possible be blown off in the wind.
Benefits
Can be moved to which ever location is needed
Can be raised higher and lower
Can be used as shelter in the garden on a hot day
Carports come in various sized when buyng them,make sure you know what you want when buying. Do you have a small or larger vehicle, are you wanting it to be moved often or not? These need to be though about because some carports can be cemented into the ground, if this is decided then measurement need to be taken in so no mistkes are made when setting up poles. It is also importatnt to decide whether you want metal or fabric roofing, metal roofing is much more limited when choosing the shape of your carport but they are much more durable in harsh weather. Try get some additional add ons for your carport, this could be screens on the side or a light in the roof for safety when coming back at night.
For more information or queries or carports contact a proffesional in your area on our home page.