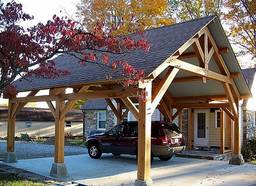 Carports
---
A car is a valuable investment, and the safety of your vehicle should not be compromised by pricing or space. Carports are a lot cheaper choice than a garage and are great for storing cars. They can also be used for entertaining. However, carports, due to their open nature, are not as secure as garages. The advantage of a carport over a garage (beside the cheaper cost) is that they can be added onto over time should you need more space. Also you can utilise previous 'dead' space and add great value to your home.

Using a Professional Carport Builder

Unless you have had experience un this type of work before is advisable that you enlist the help of professionals when adding a carport to your property. Professionals will be able to help you get the necessary permits from council and also help with the design process. If you are having a concrete slab installed, ensure that the concrete pouring is done professionally.
Carport Design Options

When it comes to carport design and materials, there are a range of options available to you. While timber, steel and brick are common, aluminium is becoming increasingly popular as it is lightweight and allows for more innovative designs - particularly the cantilevered style roof. More traditional options include an angled or gabled roof with four support posts. Your carport can either be integrated with the existing structure of your home or be freestanding.
Choosing a Carport Builder

When selecting a builder to build your carport, shed or garage, there are some things to look out for. Firstly, you need to make sure that the builder is fully licensed and insured. They should also be willing to give you a quote before any work is commenced and to go through the contract with you to ensure that there are absolutely no hidden costs. Ensure that the builder is reputable by checking their references and asking to see some examples of their previous work if possible. Hopefully they will be listed on this website and also have some reviews that you can read through.
So, Whats the Damage?

The cost of a carport will be based on a number of factors including the materials used and the builder's standard labour charge. Carport design can vary widely, from basic stand alone structures to designs that are integrated with the existing home. Consequently prices can vary - it all depends what you want and how much you are prepared to pay. The more customisation you require, the more you are likely to pay!
Please see our homepage for more articles that may interest you;