Bedroom furniture: Choosing a bedframe for a good night's sleep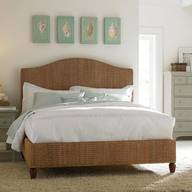 Having a comfortable bed is a must if you want a good night's sleep and an energy-filled day. That's why putting in extra effort when choosing the perfect bed frame for your mattress and linen is well worth it. Follow this guide to picking the perfect bed frame for a well-rested night.
The size of your mattress should be a primary consideration before choosing your bed frame. The mattress must fit snugly within the confines of the frame without needing to force the mattress in. In addition to this, there shouldn't be air space in between the mattress and the frame.
Consider the size of your room when choosing your bed frame. A small room with a disproportionately large bed can have an overwhelming and uncomfortably cramped effect. Placing your mattress on the floor of the room before buying a bed frame and linen is a good way to gauge how much space the bed will take up.
If space is limited, a simple metal bed frame under your box spring is a good option to choose. Another option for space-limited bedrooms is a platform bed frame that can double as storage space if it offers drawers under the box spring area.
Two of the most popular choices available to homeowners are platform beds or box spring bed frames. Platform beds only require a mattress and do not need box springs, which makes them a more cost-efficient option. Box spring bed frames can be used to give the bed added height above the floor and make the bed less hard than is the case with platform beds.
If you are considering a more luxurious bed frame, make sure you are aware of the height of the ceiling in your room, especially if you are interested in a canopy bed. A tall bed frame will be a problem if the ceiling is not high enough to accommodate it. There should also be some breathing space between the bed frame and the ceiling to avoid a cramped look.
Finally, consider the overall décor style of the bedroom before deciding on a bed frame. For example, a bedroom designed in a warm, natural style, would be complemented by a wooden bed frame, whereas modern, contemporary bedrooms can be enhanced by a minimalist metal bed frame.