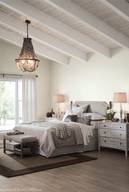 Bedroom Furniture
---
Every home owner deserves to design a space that is completely their own; a space that is personal and allows for complete comfort and tranquility. It goes without saying that one's bedroom is a safe haven, and should be furnished in a way that is entirely up to the owner of the room itself. The furnishing of a bedroom is a wonderful task that asks for undivided attention and thought.
There are far more items of furniture than a bed that should be incorporated into your bedroom. Allow your bedroom to become a space that can offer you a place to be creative and relaxed. Need inspiration? Here are a few popular ideas!
Couches
Couches don't only belong in the living area, but can change the look and feel of your bedroom entirely. A couch adds a diverse touch to your bedroom and can be used as a seat for reading or writing, or simply having a few calm moments. A couch also creates opportunity for personal touch in your bedroom as a variety of décor such as pillows and throws can be included!
Desks
A desk is an essential piece of furnishing for most people to have in their bedroom. Some homes do not offer the luxury of separate offices and some simply prefer to work at a desk that is placed in a comforting and familiar environment. Adding a desk to your bedroom often boosts creativity and reduces stress levels as one is able to work in a non-pressurised space. Your desk can be specifically chosen to match your personal style.
Ottoman
An ottoman in a bedroom is a piece of furnishing that adds elegance and class. An ottoman is often placed at the foot of the bed and holds items such as blankets, pillows or anything that can be taken in and out easily. An ottoman not only looks pleasing to the eye, but also is remarkably convenient in terms of creating extra space for items that won't fit into your cupboard. An ottoman, like a couch, can be covered in innumerable amounts of materials and fabrics to either match your style or stand out as a central piece of furnishing in your bedroom.
Whichever pieces you choose to put in your bedroom, remember to use pieces that will benefit the serenity and personality of your space. For more articles and inspiration, visit our homepage.