How to choose a safe and secure baby crib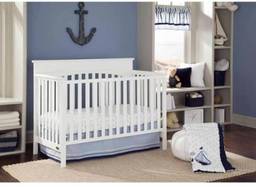 While it may not be possible to have your new-born in your sights 24/7, it is possible to take every necessary precaution to ensure your little one is as safe as possible at all times. Ensuring that your baby furniture is safe is a first step towards having peace of mind when your little one is sleeping or resting without you at their side.
When choosing a safe crib for your baby, make sure you find a product with fixed side rails, rather than adjustable side rails. Adjustable side rails are hazardous because they increase the chances that your baby could become trapped or caught in sliding panels.
In addition to this, the distance between slats in the side rail of your crib should be no more than 6 centimetres to prevent your baby from falling out the crib, getting limbs caught in gaps of the crib or from pulling dangerous objects into the crib.
When choosing a mattress for your crib, make sure you find one that perfectly fits the inside of the structure. Do not purchase a mattress that leaves gaps between the protective mattress and the structure of the crib as this could expose your baby to a hard and dangerous surface.
Additional safety notes for your baby's crib include checking general customer satisfaction ratings about the product. Always ensure the particular product has not been recalled at any time and make sure you do background checks on how other parents have experienced the product. Regularly check any screws or bolts in the crib to ensure that they are securely tightened at all times.
Finally, ensure that the placement of your crib maximises its safety features. Do not situate your baby's crib near a window with curtains or near hanging drapes, as these can be a strangulation hazard. When it comes to choosing toys or mobiles for your baby to play with during crib-time, make sure you avoid products that are suspended by strings or that have appendages that your baby could become entangled in.