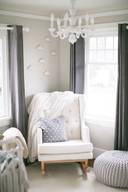 Baby Furniture
Whether you are a first time parent or consider yourself a veteran on the subject, expecting the arrival of a new family member is both an exciting and anxious time.
There are an array of books and guides on how you and your partner can prepare for your new-born. Preparation is physical and emotional, but perhaps one of the key steps in preparation is environmental.
Ensuring the best environment for you and your child is pivotal. A nursery is a place of bonding and peace, a space in which you and your child spend a vast amount of time, whether that time involves eating, sleeping or playing. Below is a list of a few essentials to ensure the comfort and safety of your baby.
Bassinet
A bassinet is not the first choice of every parent, as some prefer to put their child in a crib from the start. A bassinet, however, may be a source of comfort to your baby for the first few months of their life, as the smaller size doesn't push them to feel overwhelmed. A bassinet is also conveniently mobile, making night time feeds far simpler.
Crib
A child will sleep in a crib for the first two to three years of their life. Cribs are a safe way in ensuring your baby can sleep peacefully and easily without the anxious though of them rolling off of edge. A crib also has a longer life span than a bassinet, as children are able to make use of it even in the midst of them learning to stand and walk.
Changing Table
The idea of nappy changing is not exactly pleasant, so any way to somehow better the experience should be welcomes. A well organised changing station ensures a safe and hygienic place for you and your baby. Changing Tables are often also convenient for storage and organising your nursery, making the environment calm and serene.
To explore your options on baby furniture and suppliers in your area, visit our homepage.