Factors to consider if you are considering reupholstering your furniture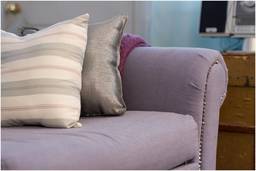 Reupholstering should not be underestimated, as the process is extremely thorough and not worthwhile for cheaper and damaged furniture that is not strong enough to withstand the reupholstering process. When a piece of furniture is reupholstered it will be stripped to its frame and rebuilt with new fabric on the exterior, and new padding, springs and webbing on the interior.
Reupholstering can sometimes be just as expensive as buying a new couch. If your couch is in need of an update, consider these factors to determine whether reupholstering will truly save you cost, or whether a new couch is a better option.
The decision to buy a new couch, rather than reupholstering, is not only an issue of cost. An antique couch with sentimental value, or a rare piece of furniture, may be worth keeping regardless of the extra cost of reupholstering.
Cheaper models that are not necessarily built to last are often not worth reupholstering, whereas stable and high-quality furniture could be usable for years to come, thereby making a reupholstering job worthwhile.
The frame of your couch can often determine whether reupholstering is worthwhile. If your couch has a hardwood frame with secure joints, is heavy, and does not appear flimsy when shaken, it may be worth reupholstering because of its sturdy characteristics.
Analyse the springs in the frame of your couch. Higher quality furniture that may be worth reupholstering will have coiled springs, whereas lower quality couches often have rubber panels.
If you do decide to reupholster your couch, ensure you choose a new fabric wisely. Avoid simply reusing the same fabric and consider experimenting with a different colour or pattern. Make sure you also consider where the furniture will be placed. Outdoor furniture, or furniture in an often used lounge area will need to be hardier and less prone to showing stains than furniture in a secluded area, like a bedroom or office.