Sound and Lighting Equipment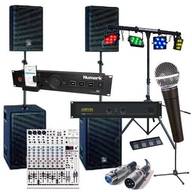 When planning a small get together at your house or a huge party, sound and lights are essential to setting the correct mood and letting your guests have the best night possible.
When renting your sound and lights company make sure that you they have good reviews from other people, very often sound companies cater for certain sized events. You can do this on our home improvement page by clicking on a companies name and scrolling down to reviews. Once you have found the company you would like, you can then measure out how many lights and speakers you think you will need, this is easier to do if you if you invite the experts and give them the numbers of how many people will be attending and the budget you have.
Make sure that you specify what type of lights you want, some will be used for if you have speeches so that things are more clear and others are there to set the mood and add some feeling to the party. Damage to the speakers will be charged to you, make sure you find a safe space for them to sit and that no one rests drinks and food on top of speakers.
To find sound and lighting equipment in your area contact an expert on our page.