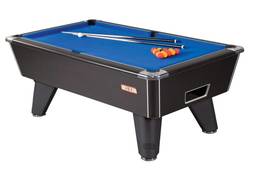 Having a pool table is great for use in social situations and with the family, but it is also very important to maintain the table for best use and to have the best equipment for when playing the game!
Wood is the most important part of the pool table, usually at least two types are used. Poplar (tulipwood), a hardwood with superior self-healing properties. Other hardwoods that provide a more attractive finish and are more resistant to nicks and scratches are used for the outer surfaces of the table. Examples are oak, maple, and mahogany.
Having a pool table means regular check ups and making sure the release system works efficiently. It is important to polish the wood with a citrus-based polish. The frequency with which you need to do this will vary depending on how heavily used the table is. The carpet on the table also needs to be cleaned regulary, this can be done using brushes that are available at pool and snooker stores. The critical feature of these brushes is that the tips of the bristles are soft, so they will not damage or tear the felt.
It is also important to put it in a room that is not exposed to too much sunlight as it will fade the cloth. It can also bleach the table's finish.