How to choose the perfect pool table for you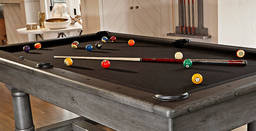 A good quality pool table is an expensive investment that should be made wisely. Make sure you ask the right questions and know what to look for when choosing a pool table for your family or recreation room.
One of the best materials for a durable pool table is slate. Slate offers a smooth surface that allows accurate shots and is often preferred over alternative common substitutes like plywood, slated, perambulate, honeycomb or fiberboard.
The legs of your pool table will need to reliably support most of the overall weight of the structure. Stress is added to the pool table during games when players lean against it to take shots or sit on the table edge. Therefore, strong legs are a must. Two types of pool table legs exist, the post variety and the two-piece variety. Post legs are the better, although the more expensive option, because they are made of solid wood from the table-top to the floor. Two-piece legs are not solid and therefore not as reliable.
The cloth of your pool table must be durable and of a high quality to allow pool balls to roll easily and smoothly across the playing surface. One of the best cloth to use is worsted cloth, which is normally made from wool and has combed fibres that aid the speed and accuracy of the player's shots.
To complete your pool table equipment, purchase good quality pool cues, bridge sticks, pool balls and pool ball racks. Additional equipment includes table brushes, cue repair kits, cue chalk, table covers, pool cue cases, wall racks and pool cues.
Once you've ordered all the parts for your pool table, it will normally be delivered in separate pieces that will then need to be assembled together. Rather than trying to install your pool table yourself, consider hiring a professional pool table installer who can easily and professionally set up your pool table.