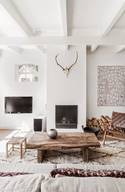 Interior Designers
---
We all want the best for our homes, and have copious amounts of visions and Pinterest boards that map out every detail of our tastes, styles and preferences. However, not all of us have the capability and training to put these visions out into the real world. This is why HomeImprovement4U gives you access to the relaible and gifted hands of Interior Designers with the click of a button.
Interior Designers are involved in decor as well as ensuring functionality, efficiency and safety of your home. Interior designers therefore should understand construction, lighting, color and furniture. They should be gifted with an eye for the imaginative and the practical.
Interior designers are qualified to suggest structural changes to the room as well as being able to rearrange the interior of a room to better suit the needs of the client. As well as making changes to the homes interior an interior decorator can ensure the new interior matches the homes architecture, ensuring the interior and exterior work together.
An Interior Designer is able to:
- Meet with the architect ensuring the client's needs are complied with
- Develop functional and asethic designs that comply with the client's needs
- Prepare working drawings for interior construction
- Select furniture, fittings, lighting, materials and any other equipment
- Prepare cost estimates for the clients approval
- Organize tradespeople such as painters, plumbers and electricians
- Work with specialists
Interior Designers are trained at private institutions or at university. Ask to see their qualifications, portfolio and references. It is important to establish a good working relationship and that you share the same vision for your home.
An Interior Designer is able to help you choose all interior elements for your home such as decorative items, soft furnishings, rugs, carpets, lamps and color consultations. Make sure you receive a written quotation and discuss consultation fees!
If you are ready to take the next step in creating the home you have always dreamed of, head to our homepage for Interior Designers in your area. www.homeimprovement4u.co.za