Interior design mistakes to avoid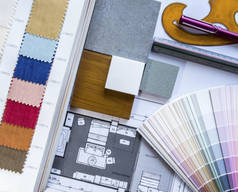 Interior design is a true art that some are more naturally skilled in than others. Improve your interior designing skills by taking note of these definite don'ts:
1. Poorly lit rooms. Bad lighting in a room can undermine even the best home designs. When rooms are too dark, colours appear duller and a room can take on a depressing atmosphere. Ensure your rooms are adequately lit by installing flattering lights at various heights and make sure you use a variety of light sources, such as downlights, chandeliers, floor lamps or desk lamps. Avoid using only one light source, as this can cast shadows on your room.
2. Pictures or mirrors installed at the wrong height. Having a beautiful photograph or picture is of no use if it is too low or too high to fully appreciate. Avoid this mistake by hanging your wall decor with the centre of the piece at eye level, which equates to roughly 58 inches. Ensure you are placing your wall decor exactly where you want it by first marking on your walls where each item will go in order to get a better look at how the final outcome will appear.
3. Too many throw pillows and blankets. Cluttering your couch with multiple cushions and throws not only gives your lounge area a cramped and messy appearance, it also makes your couch less usable. Choose enough cushions to give your furniture a full, balanced look, but do not compromise on sitting space.
4. Wallpaper that is too busy. A room can become a claustrophobic and stressful environment if it is decorated wall-to-wall with excessively bright, patterned or busy wallpaper. If you are set on incorporating a specific wallpaper design in a room, choose to use it on a single, focal wall and paint the remaining walls with a neutral, but complementary, colour.