How to choose linen for family members with sensitive skin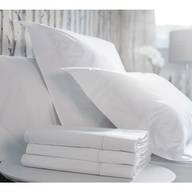 For sufferers of sensitive skin, skin allergies or conditions like eczema, getting a good night's sleep may not be as simple as it is for those who have ordinary skin. Itching, irritation and painful dryness is often a difficulty for people with skin problems, which is why it is vital to choose bed linen suited for sensitive skin. Here are some tips on which materials to choose and which materials to avoid for sensitive skin:
Microfibre is a material constructed from small pieces of polyester. This fabric is affordable and soft but can be problematic for those with sensitive skin. This is because micro-fibre is tightly woven and heavy, which limits air- flow and can lead to sweatiness and worsened skin irritation.
Polyester blends or polyester is another fabric that should be avoided for sufferers of sensitive skin. Unlike natural woven fabrics, polyester does not allow the skin to 'breathe' well and traps heat and moisture under the covers. For people who have skin that is sensitive to chemicals, polyester can also be an aggressive irritant.
Materials that are better suited to sensitive skin include cotton or bamboo-infused fabrics.
Cotton towels, linens, duvet covers and sheets are an affordable and durable option for those with sensitive skin. Higher thread count cotton will give you a softer and weightier fabric, while a lower thread count allows the fabric to be lighter and more textured. One of the biggest benefits of cotton for sensitive skin is that it allows air-flow between the fabric and the skin, while still keeping the body warm. This prevents sweating, heat build-up or itchiness and irritation.
Finally, bamboo-infused fabrics are a good option for skin that is prone to allergies or that is hypersensitive. Bamboo sheets, for example, have hypo-allergic and antibacterial benefits. Due to its hypo-allergic properties, bamboo fabric is uninhabitable for dust mites or bed bugs, which are one of the biggest culprits of skin flare-ups. Bamboo fabrics are also thermoregulating, which means they contain microscopic gaps in their weaving, allowing you to retain heat in winter and feel cooler in summer. This prevents the temperature from being a factor in skin irritation.