Printing on Canvas, Where do I start?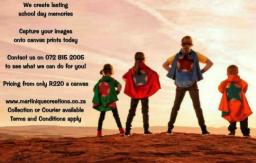 Printing on Canvas, Where do I start?
Your starting point is deciding on your space you are going to hang them, which room and which wall you want your canvas displayed.
Once you have decided this, decide on your budget, best to do it monthly, if it is going to be a lot of photos at once. Then have your photos sorted into folders, so you know which size canvas which photo will be(ranging from A4 the smallest to A0 the biggest) or it can even be a collage of blocks(15-30cm).
When choosing photos, look for clear good quality, especially by the face area, so it doesn't blur or pixilate. Pictures in MB quality are the best, instead of KB, which is ok for A4 if it is of a high resolution quality.
You can do your own sketch of sizes and ideas you have to see if it will work for your wall space as well, that can be a lot of fun. You can theme it, eg family photos on this wall, wedding photos on this wall, family tree on that wall, kids photo on that wall , have been some of the most popular themes.
Finally decide on gloss or matt canvas. It all depends on what look you prefer for your walls and to match your home's style. Also decide on a flat frame canvas or a box frame, both are lovely. The important thing is to keep your canvas looking the same on the wall so it tells a story and forms a beautiful collage effect on your wall.
For more info or help, contact Martinique Creations on Facebook.
Where Beautiful Things Originate
Canvas Made Beautifully
Est 2019.