Over 60 and looking to renovate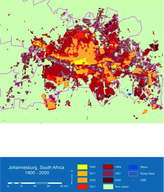 The National Resources Act of 1999 protects all structures over 60 years old
Over 60 and looking to renovate!
No portion of any home originally built over 60 years ago can be altered or demolished without approval from our local heritage body The Provincial Heritage Resources Authority – Gauteng (PHRA-G).
The National Resources Act of 1999 protects all structures over 60 years old and requires owners who wish to renovate or alter these structures to submit an application for approval. The City of Johannesburg (CoJ) Building Control will also not accept building plan submission unless this requirement has been fulfilled.
Johannesburg will be 132 years old in October 2018 and thus many suburbs are over 60 years old or are almost there. Now more than ever it has become extremely important for home owners wishing to renovate properties to establish how old their homes actually are, this can easily be established through the deeds office or if available simply examining the earliest approved building plans. Prospective home owners looking to purchase a property should also request clarity on this issue as any alterations will be subject to PHRA-G approval.
PHRA-G categorises buildings of heritage significance into three categories:
Provincial heritage site means a place declared to be a provincial heritage site in terms of section 27 of the National Heritage Resources Act of 1999 (such sites were previously known as national monuments)
Provisionally protected place means a place protected under section 29 of the National Heritage Resources Act of 1999 (such places include former provisionally declared monuments)
Structure (over 60 years old) means "any building, works, device or other facility made by people and which is fixed to land, and includes any fixtures, fittings and equipment associated therewith".
Completed application form (Form 301 –available from the PHRA-G website)
2 sets of architectural drawings (1 set coloured) showing the existing, demolition and new work.
Photographic report; clear colour photographs of street elevations of neighbouring properties, all photographs must be labelled and contextually located.
Copy of original building plan, if the local authority does not have the original plans, then an official letter from the local authority, stating that no plans are available, will be required.
Locality plan, can be a copy of page from a map book or even a Google earth image with the property clearly identified.
Site Development Plan (SDP), not usually applicable for single domestic residential dwellings.
Historical and architectural background information; with regards to previous ownership and architectural aesthetic styles.
Proof of invitation for comments from interested / affected parties; applicable to major or total demolitions.
Contact Space Factory Architecture (Pty) Ltd for professional, efficient and ethical architectural services for all your home improvement projects.
Articles related to your search: