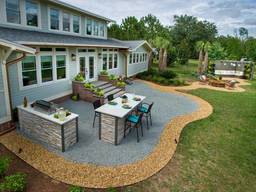 There's nothing like relaxing on beautifully clean Patio but, patios take a beating over the years, cleaning paving and patios is often thought of as a tough job and gets pushed down the to-do list. This can be solved with small jobs being done regularly.
A few small maintenance and cleaning tasks throughout the year and your patio will be looking at its best and it will prevent the need for any major work. Sweeping regulary with a leaf broom will get rid of any decaying leaves that have the potential of leaving staines, wet leaves can also be hazardous to walk on. As autumn begins the leaves will start to fall, a leaf blower can be a useful tool to keep your patio clear.
Spring is a very good time ti clean your patio, this is because the worse weather has come to an end and it is time for social gatherings in the summer, Choose a pressure washer nozzle that provides a strong stream of water to remove algae and moss, but do not point it at the one spot for too long as this may cause damage. If you have not given your patio a thorough clean for some time it may be necessary to use an outdoor detergent to remove stains.
Look out for any small signs of wear on your patio furniture that may be easily repaired now. Plastic and synthetic furniture on your patio can be cleaned with a power cleaner, but wooden and metal furniture should be washed by hand. When you have finished cleaning wood it is also imporatnt to add finisher.