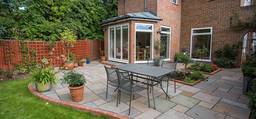 Cleaning your patio and maintaining it is very easy if it becomes a part of your weekly routine, just simple jobs that do not take much time but could have a big effect on the look. A few times a year a nice spring clean can also make all the difference.
You will need:
Soapy Water
Vinegar
Power Cleaner
Mix washing liquid with warm water inside a bucket,Add the vinegar after you have mixed these, do a further mix and pour over the needed area to clean, use a hard bristled brush to loosen some of the dirst that may have stuck, then pour cold water over to wash away soap. Next use the high pressure cleaner to release any other spot of dirt and then repeat the process.
Some Other tips
Sweep your patio every day, this will prevent leaves leaving difficult to remove stains. #
Make sure you also attend to any Patio furniture you have, this means moving them when you clean to make sure there is not dust underneath, and giving them their own clean as well.
There is also the option to just add some nice finishing touches to your patio, some nice flowers on the side in the summer can be a very nice touch.