Decking Materials and supplies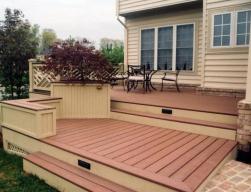 There is always a time when you realise that it is time to change your decking, it could be a simple repair or it could be the complete replacing of your deck. If you are looking just to fix your deck you need to make sure that you use the same materials as the first time, here a few tips to choosing your decking materials.
Wood Decking
This type of decking does is pressure treated pine, it comes in various types of wood also ranging in price and strength. This means that you can choose based on your own budget, try work out which colour would suit your houses design. The down part to having wood is the change of the colour, cracks and sometimes the stains stay if the wood is not finished.
Composite Decking
If you are wanting a wood look without the problems of staining, A plastic wood fiber that you can choose the colour of is up for offer with these. The cons of using this type of decking is that they are far less resistance to slipping and mildew. These are also slightly more expensive then the wooden decking.
Plastic Decking
Really good for resiting the elements and very good at preventing stains. it is also very lightweight and quite cheap, there are also some of the cons to using this type of decking is that it can be quite slippery and it can sag slightly more than wood.
Aliminium Decking
This is one of the best typoes of decking that you can get, it is tough, it doesnt sag down like the plastic and it is slip resistance. These usually last a really long time and the traction lasts, some of the cons that come with having the aliminium is that it is the most expensive and there is no way to make people think it is wood.
For more information contact a proffesional in your area from our page.