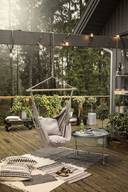 Decks
---
An outdoor deck is a valuable addition to any home. It is a space that is created to allow your family and friends to enjoy the outside air whilst still remaining comfortable. It is a space that can be designed to incoprorate your garden and the style of your home. Commonly, decks are constructed from timber and can either be attached to your house or freestanding. An attached deck with bi-fold doors is a good way to extend the living area of your house. Freestanding decks can be used for a gazebo or to surround a pool or outdoor spa.
A good idea is to consult a landscaping professional when planning and designing your deck. There are many factors that need to be considered to ensure your deck is in the best possible placement and style. In the planning stages, you should consider, the size of your deck, privacy, and budget and how it will fit in with the style and design of your home always consider municipal regulations.
Ideally your deck should be north-facing, allowing for shade in summer and sunny in winter. If this is not practical, the use of outdoor heaters and shade structures are a good way to overcome this and still allows for a pleasant and luxurious space. Erecting a screen is a good way to ensure privacy and protect the space from harsh weather.
Railings are an important safety and aesthetic part of your deck. Your decking company will be able to guide you on height and gaps between the rails. Generally railings should be a minimum of one metre high, balustrading or stainless steel wires must be spaced closely enough together to ensure young children cannot fall through. Reinforced glass is a stylish and safe option that allows for a the sense of space to still be present.
Timber
---
When you build a deck, using the correct timber is vital. Make an informed choice between hardwood and softwood. Hardwood is naturally durable and popular. Softwood can be used as long as it has been treated properly. Whatever timber you decide to use it must be resistant to the elements and termites.
Treating Your Deck
---
Painting and treating your deck with oils, paints and stains will keep it in good condition and protect it from the weather. Oils, paints and stains have different maintenance levels so choose the one that will meet your needs. Oils need to be reapplied every six to eighteen months, paints can last up to ten years and stains can last between two to four years.
Cost
---
Materials are the major cost element of your decking project. Hardwood timbers being the more expensive option, closely followed by composites, with softwoods being the most cost effective. Labour is another major factor, and most quotations include the labour costs. Ongoing costs include maintenance, sealing, sanding and oiling of your deck.
A deck is not a decision that should be taken lightly, but it is definitely a decision worth considering. A deck will add value and space to your home, careful planning before installing will ensure that you will enjoy you deck for many years!
Should you wish to explore more of the planning that goes into creating a deck for your home, visit our homepage for more articles!