What is Composite and what is it used for?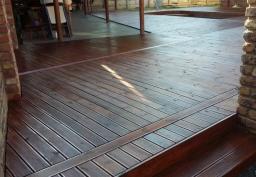 Composite is the mixture of materials that result in a more stable and durable product that can be used as an alternative for more commonly used materials
What is Composite and what is it used for?
Composite is the mixture of materials that result in a more stable and durable product that can be used as an alternative for more commonly used materials. It is used for interior floors (SPC) and outdoor applications (WPC).
Composite has been specially tested for the harsh climate of Africa and a good manufacturer will guarantee their products for 10 - 30 years. Most composite materials have been designed to resist slipping, scratching, splitting, cracking, warping, insects, water damage, fires & stains.
The initial investment into composite can be an expensive one, BUT,....Banks & Insurance companies love it!
WHY USE COMPOSITE? Composite is a low risk solution to both insurance companies and banks, due to its longevity and long guarantees.
WHAT DOES THIS DO FOR ME? First and most importantly..... Composite increases the initial property value and does not depreciate the same as other materials.
IS COMPOSITE ENVIRONMENTALLY FRIENDLY? YES, YES, & YES!!! Most Composite Products are a Green Building solution and make use of recycled and virgin materials that do not impact the environment in a negative way!
WHAT DOES IT LOOK LIKE? Neat, Beautiful, & Stunning!! There are hundreds of different finishes that make modern designing an absolute pleasure and transforms any space into something Spectacular!
What is WPC Composite?
Wood Plastic Composite is a mixture of wood fibres and plastic that creates a durable, low maintenance solution for Decks, Pergolas, Screens, Balustrades, Cladding, & Outdoor Furniture.
The finished look of a WPC installation is streamlined, making use of hidden fasteners. With a variety of different colours and 3d finishes, your neighbour will not only be envious, but would probably want to arrange the next 'get together' in your garden!
What is the return on investment into WPC Composite? Composite has a high return on investment due to its low maintenance. Most composite materials do not need any staining, sealing, & sanding. A high pressure hose and some deck soap = Maintenance DONE! No more spending money every 1-2 years hiring a company to maintain! This saving alone will pay back your investment in just a few years, and by the time the structure needs replacing, A PROFIT WOULD HAVE BEEN GENERATED!
When choosing WPC, is there anything to be aware of? Composite, just like timber, gets hot in direct sunlight. This creates a lot of expansion and contraction and if not installed correctly, can look ugly and cause damage to the material. The shape of the product is also a very important aspect to consider. With so many different options out there, knowing which shape and type would best suit the project at hand can be tricky but a rep from Luxury Decks can make that choice a breeze.
What is SPC Composite?
Stone Polymer Composite Flooring is a mixture of Stone and Plastic that is a durable alternative to Laminate Flooring with long guarantees. It can be installed in bathrooms and kitchens and boasts of high scratch resistance, waterproof properties, and easy installation with its click system. SPC is a dense material and has virtually no expansion and contraction and keeps its tight fit over time. SPC Flooring can be installed directly onto a level surface and has its own underlay that reduces the sound of noisy shoes.
IS SPC FLOORING ALSO EXPENSIVE? No! A good quality SPC product is not expensive and is comparable to Laminate Flooring. Pricing is affected by finish, availability, & thickness.
Wooden Decking
There is so much to say about Wood that an essay could be written and still not have covered everything, however, at Luxury Decks we focus on just a few types of wood.
Wood can be be used for the construction of anything from ships to houses. In South Africa, Pine, a locally grown timber, is mainly used for structural purposes and it is important to use treated timber to ensure your structure lasts. Pine is also commonly used as a deck finish but is NOT recommended due to its high maintenance and short lifespan.
Most hardwood timbers like Balau, Garapa, Teak, IPE, & Massaranduba are imported, and price is affected by exchange rates and import duties. Regular maintenance on hardwoods are required to keep the finish looking fresh and to ensure the maximum lifespan is reached.