Alternative options for affordable decking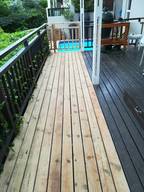 Best Alternative affordable decking
Did you know that you can
save up to 30% on your material cost by using
H3 treated pine instead of your traditional Balau decking?
H3 treated pine is known to last up to 20 year untreated and looks just as
good as balau decking if stained correctly.
However if you are stuck on using Balau wood you can still save up to 25% if you purchase shorter lengths.