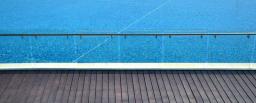 Frameless balustrades are aesthetic can can add a really nice look to your house, but they can be a bit on the expensive side
#1 Check the glass for damage
The tempered glass used in balustrades is very hardy and it isn't really prone to getting shattered. However if a very sharp and heavy object bangs into the glass, it might chip or develop a crack. If this happens, it's important that you replace the panel.
#2 Check them for loose fittings
It's important to check the clamps and fittings to ensure they haven't worked loose. You can factor this check into your regular building maintenance schedule. While this isn't something which occurs very often, it's a preventive measure that can prevent the glass from getting damaged.
#3 Cleaning
This is probably, the most frequent maintenance task when it comes to glass balustrades. Pollution, dirt and dust, as well as the salty sea air can make the glass surfaces look unclear and murky. Use an effective, environment-friendly glass cleaning agent to ensure the glass surfaces maintain their sparkling appearance.
This will also help remove those sticky finger smears and marks that tend to almost magically appear on glass balustrades. Use a lint-free cloth to wipe away the cleaning solution and to get a streak-free surface.
#4 Avoid sharp objects near the balustrade
Ensuring that the area around the balustrade is clear of any sharp objects is the one way to make the space more friendly towards glass. This is as crucial as cleaning and maintaining it is. For instance, if you are going to be moving any heavy, large objects such as furniture, past the balustrades; ensure that you cover them either with packing blankets or bubble wrap first.
Balustrades-steel elements care
If your balustrade has stainless steel in its frame or railing, you can be sure the structure is very strong. However even steel can deteriorate over time, if it isn't maintained well. These are the things you should focus on:
#1 Prevent rust deposits
Based on the environmental factors it is exposed to, steel may get stained and discoloured. It's important to prevent minute rust and iron deposits from forming on the steel framing – this can be a killer! If your property is close to the sea, salt deposits and heat can take their toll.