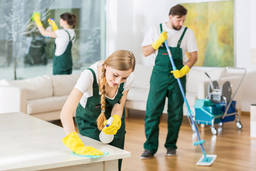 When your work life becomes too time consuming and your house starts to build up a bit too much dust, a cleaning service can come in handy at these times. There are many different kinds of services that are up for offer. These are there to suit your time schedules and needs.
Without doubt the most popular type of cleaning is residential one. It's also referred to as maid service or janitorial service. This type of cleaning includes the general housework that every home requires. These would be tidying up rooms and cleaning kitchen and living room areas. Bathrooms would be sanitized, taking out the rubbish is done and vaccuming of carpets as well. Commercial cleaning is also an option for people who live in the city and have a very busy lifestyle. These businesses offer full clenaing services including washing of dirty clothes mopping of tiles vaccuming of carpets and any other specific requests may be done in some cases.
There are some other cleaning service options like carpet cleaning which goes through proper treatment, deodorizing and sanitation of the carpets. There is also Steam Cleaning which gives great results and can turn a dirty carpet or upholstery furniture into a great looking one. These companies have the right expertise, machines and products that are required for the job.