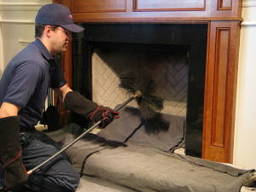 Having a fire place in your house is always a nice pleasure, the only time things get a bit tough is when it is time for that cleaning job that always leaves you messy and doesn't really seem to do much good for the smoke flow.
One of the first things everyone needs to know about cleaning the chimney is to not use the a basic vacuum cleaner, this is because usually it lands up clogging it up. Another very helpful tip for everyone is to prepare yourself before you begin, if you forget there is always the chance that you will have to walk soot all around the house getting tools.
Plastic Place Mat
Rubber Gloves
Bucket of Cleaning solution
Scrub Brush
Fire Brush
Pan
The first thing you need to do is to use the fire brush and get any soot that stuck to the side, keep a bin on hand so that you can knock it straight into the bin. When this is done get the pan and brush and clear up all the collected soot at the botome of your fire place. Then grab the brush and the solution and clean the bottom of the fire pit, this must then be followed by being wiped with paper towels. When you cleaning the back wall get a spray bottle and do the same process.
For Expert Cleaning contact someone in your area on our page.