Maintaining your Timber Floor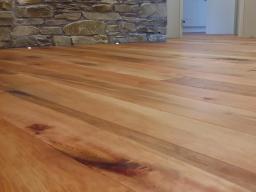 Timber flooring is one of the best looks for a cottage, it is warm and adds a homey feeling. But one of the most important things about having a timber floor is making sure that you take care and maintain it as best as possible, if not it can ruin the look of your house and possibly even a safety hazard.
Humidifiers
During the hot time of year it is always a good idea to once in a while, if you have is to set up the humidifiers in your house, this will prevent your wooden floors from shrinking. Although this is not an urgen need for your flooring it can make a huge difference for your flooring.
Shoes
If anyone in your house plays a sport that involves spiked shoes make sure that they remove them before entering the house, this will save your floor from taking any unnessary damage and also, when polished, wooden floors can be very slippery and dangerous for metal spiked shoes.
Carpets and Rugs
At the entrance to your house or in high traffic areas, like the passage way, put down a carpet or a rug, this will allow any dirt and pebbles to be picked up instead of being dragged and scratching the floor, make sure to remember to shake out your carpet atleast twice a week.
Polish
When choosing to polish your floor, make sure to do a thorough vacuum before you start, a polish should be done once every few months and is a very easy and effortless job.