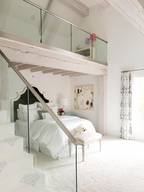 Carpet Cleaning
---
Carpets should be cleaned on a regular basis by a professional. Typically a quotation is based on the area to be cleaned and how many rooms are involved.
Fabric protection usually is available at an extra cost. Only the carpet fibers should be cleaned and the backing, underlay or floorboards should not be wet. Some companies use nontoxic citrus products to clean carpets which is a good alternative if you have allergies, young children or animals.
For those us who aren't cleaning savvy, here are a few basics to know before you clean your carpets.
- Dry carpet cleaning: A solution is applied to the carpet and a rotating buffer with an absorbent pad is moved across the carpet, if any stubborn stains remain a stain removal solution can be applied. The carpet is then raked to lift and air it.
- Steam cleaning: This is a more effective cleaning method and great value for money. Heavily embedded dirt and stains are effectively removed.
- Carpet sanitizing: This is performed to kill any bacteria that may exist and to apply a pleasant odor to the carpets. A good idea is to combine this with carpet cleaning.
- Carpet and fabric protection: After cleaning fabric protection can be applied to your carpets or upholstery.
- Rug cleaning: Almost all rugs and mats can be cleaned including Persian and Oriental rugs. They are usually cleaned off site using special cleaning and drying equipment. Your quotation should include collection and delivery.
- Upholstery cleaning: Upholstery is effectively cleaned using steam or dry cleaning!
Whatever your cleaning needs, HomeImprovement4U allows you access to the best proffesionals in your area! Please visit our homepage for more articles that may interest you.
Articles related to your search: