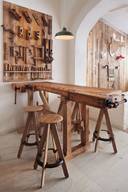 Carpenters can build, erect or repair structures that are made of wood, steel or wood substitutes. They are extremely talented and can build the frame of the house, walls and roof; install doors, windows, floors, cabinetry, ceiling tiles; erect scaffolding; complete other structural work such as sub-floor framing. They are also able to renew and repair damaged furniture. Professionalism is key when embarking on a project in your home, HomeImprovement4U is invested in finding you people who are qualified and trained for the job.
Carpenters may specialise in a particular area of the trade, so please be sure your chosen professional is able to complete your specific project by advising very clearly what you need and what you expect.
Role of a Carpenter:
Layout/design: From the start, carpenters must select the materials for the project and measure and mark them to ensure that they are the correct dimensions required.
Cutting and joining materials: The cutting required may be done with power or hand tools. The cutting stage also includes any shaping that needs to be done. Materials are joined using nails, glue, screws or bolts and rulers. Levels and other framing tools are employed to ensure accuracy in joining. Carpenters are trained and are able to cut materials with the utmost safety.
Estimation: Carpenters estimate the amount of materials that will be required to complete a project. This is very important and requires that you have done your budgeting and that you have a quote that you are happy with. Shop around if you have too, but try and choose a carpenter who shares your vision and is an expert in what they do. Even if sometimes it may cost a little more.
Interpretation: Carpenters will interpret and read blueprints and other plans to find out what is required for a project.
Follow building guidelines: Carpenters are required to follow local and national building codes and standards when working on any project.
Projects Carpenters Can Assist With
Doors: Carpenters install, repair and replace all types of doors from standard bedroom doors to complicated ornate doors. If the old door frame is no longer adequate, they can install an entirely new frame depending on your needs.
Windows: As well as doors, carpenters can install new windows and repair or replace old windows. They are also able to install window accessories such as hinges and openers.
Formwork: This is needed when concrete is laid on your property. A carpenter is the ideal professional for designing, building and dismantling formwork and ensuring it is durable and able to support the structure.
Handrails: These are necessary to ensure that staircases, balconies, patios and decks are safe and secure. Carpenters are skilled at working with timber, so can construct a simple or ornate handrail to suit your home decor and tastes.
Building decking: A carpenter can design and build a beautiful deck, so you can enjoy your outdoor space year-round. They can also install necessary accessories such as stairs, ramps and handrails. Please also see our decking section for deck specific experts.
Architraves: These can be a really attractive feature in any home, as they go around windows or doors to hide gaps between the window or door frame and the wall. Carpenters can help choose the ideal architrave and the appropriate type of fixing to match.
House frames: As the house frame is the skeleton of the home, it is important to ensure it is erected correctly. Carpenters can erect house frames for new homes and extensions or additions, be it flat roofs, gable roofs or other types of house frames.
Ramps: Carpenters can build any type of ramp you require, including wheelchair and access ramps, skate ramps, boat ramps and so on. They should also help you obtain the required permits for the ramp, and design a ramp that is safe and suitable.
Renovations: Whether you are taking on small or large renovations in your home, a good carpenter can assist throughout the process. They can help install kitchen cabinets, add an extension or deck, install new floors, wardrobes and so on. They can also help you obtain planning permission and permits where required and assist with the design of your renovation.
Skirtings: Skirtings are a decorative feature that can help finish off the look of a room. Carpenters can install new skirtings or replace old skirtings with ease using wood, MDF or plaster.
How Much Does a Carpenter Cost?
This will depend on your location, their experience and what you need done. This will include their time and you should confirm if materials are part of any quote. More expensive hardwood timbers, for example, will carry a price premium over soft timbers such as pine. Carpenters can advise you which type of timber is best suited to your project. If you are building a large structure such as a timber deck, any quote should include itemised labour and materials costings and always try and get three quotes and look for reviews within our listings!
If you are considering hiring a carpenter in your home, please visit our homepage to explore more articles that will interest you.