Metal Fabrication and welding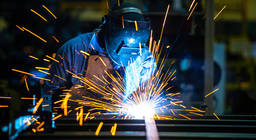 Metal fabrication and metal welding, are two distinct processes. Metal fabrication refers to the process of making a final project from metal, whereas welding is a specific type of operation that can be done to metal in the fabrication process.
Welding joins pieces of metal together, and fabrication is the entire process of turning metal in to a product, from the starting point of designing the product, all the way through to the finishing touches. Homeowners should be aware of the different types and processes of metal fabrication and metal welding, if they wish to knowledgeably supervise the construction or renovation of their home.
Metal fabrication is at the centre of home construction processes. Some of the types of metal fabrication processes a homeowner can expect during construction or renovation, include cutting, machining, folding, punching, stamping, shearing, and finally, welding.
The main types of welding technique are known as Mig welding, Arc welding, Gas welding, and Tig welding.
Mig welding is the most common welding process for home use and is most effective when used in aluminium, stainless steel or mild steel welding projects.
Tig welding requires more expertise than Mig welding, so homeowners should be certain that a highly qualified welder is working on any home project using Tig welding procedures. Tig welding should be requested for work that needs to be of a high quality and more advanced.
Arc welding is the simplest welding procedure and is most effective in simple repair jobs.
Finally, Gas welding includes the use of a flame and is commonly used in maintenance work, or to cut through metals. Homeowners should request Gas welding services if they need highly delicate welding work to be done, such as the repair of refrigeration pipes.
Homeowners should also be aware of the dangers that accompany welding and should look to ensure that any welding done on their property is accompanied by the wearing of protective gear, such as leather jackets, breathing apparatus, helmets and gloves.