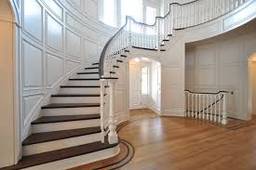 Building a staircase
---
A staircase can be more than moving from one level to another in the home. They can also be used as a unique design feature. Provided of course your house is double or multiple story there is a staircase design to suit any home.
Traditional outdoor staircases are constructed from timber, concrete and stainless steel as they are safe and pleasing on the eye. Internal staircases can be built from almost any material including glass. Design may be traditional or contemporary, straight, curved, geometric, simple or complicated.
The steps should be wide enough to walk on safely and comfortably and the staircase should match the existing design of your home. An architect or Interior designer will be able to offer sound advice on safety, design and practicality on interior and exterior staircases.
Remember to match the staircase to planned style of your home, the floor of your home should match the stairs or complement each other. Consideration should also be given to materials used on the entrance and exit of the staircase.
Use balustrades and handrails to ensure safety and a visuallyappealing staircase. In some cases the staircase may not receive much natural light consider installing windows or a skylight.
Interested in installing a staircase in your home but not sure where to start? Here is a list of basic staircase styles to get you started:
Prefabricated staircases are cost efficient and come in a ready to assemble flat pack that requires a professional to complete installation.
Classic staircases designs are usually constructed from wood and reflect a certain era such as Victoria, Edwardian or Georgian.
U Shape staircases use Feng Shu design principles.
Contemporary staircases have sharp clean lines and are built with glass, stainless steel and timber to create modern designs
Centre carriage staircases use an open riser construction with a central carriage stringer. A combination of contemporary materials and timber is used.
Spiral staircases can be built in a small space creating a feature within the home.
Cost
The cost of Building a staircase depends on the construction materials used and of course the number of stairs. Curved or geometric staircases usually take longer to build and are therefore more expensive.
Get a detailed written quote so you are able to clearly understand what is included and what is not. Get several quotes and bear in mind the cheapest is not always the best option. Ask to view previous work/projects and chat to people in the building industry!
Please see our homepage for more articles that may interest you.