Understanding the basics of concreting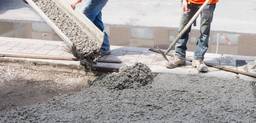 Concrete is a central building implement to home improvement and construction. It is, therefore, important for homeowners to be knowledgeable about what constitutes good quality concrete and how concrete should be correctly used to get the best value for money.
For the best quality concrete, make sure your construction workers utilise clean sand that is free of debris like grass, twigs, leaves or insects. The texture of the sand should also be coarse with very coarse materials being the most suitable for concrete sections such as industrial flooring or the foundations of a building. Ensure that construction workers apply thinner layers of concrete for household areas like driveways, patios, floors or paths.
The strength of the concrete used depends on its proportional mix of elements. Greater amounts of water in the concrete mix reduce its strength level, which means that the proportion of water used in the mix must be adjusted to suit the purpose of that mix. Concrete comes in high strength, medium strength and low strength variations with high strength concrete containing the least water and low strength concrete containing the most water. High strength concrete is suitable for suspended concrete slabs, medium strength for surface beds and low strength for foundation level slabs.
Concrete can be mixed by hand on a clean, flat surface such as a steel sheet, or with the help of a concrete mixer which should be proportional in size to the amount of concrete being mixed. The amount of time from mixing of the concrete and the placement of the batch should not be longer than 45 minutes to ensure than the concrete stays fresh and does not start hardening. If all the concrete in a batch is not immediately used, it should be sealed with wet sacks or plastic to prevent it from drying out.