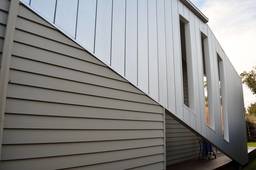 For those who aren't sure what timber cladding is- It is also known as timber weatherboarding or timber siding. finishing the timber on the outside of commercial and domestic properties. This lets the wood edges look more appealing and modern.
Moisture can affect your timber longevity and performance, this means that it is important to manage the width of your boards. By limiting board widths to 150mm, the swelling and shrinking remains manageable. It is recommended to look into waterproofing, especially around the windows and doors. Support for the cladding is important, claddng boards should be fixed to softwood cladding battens, this would normally be perpendicular to the cladding boards The board profile and installation method will decide whether vertical counter battens will be needed to provide drainage and ventilation.
When looking into nails, look at the length first, when using plain nails here should be a penetration of just over double the thickness of the cladding board into the support batten. Softwood cladding means you should use stainless steel screws, pre-drill holes slightly bigger than you need to allow for shrinking or expansion of the wood! It is very important to coat your wood, it is going to be exposed to the weather, uncoated wood would usually change to a grey colour, and it would also sometimes swell or shrink your timber.