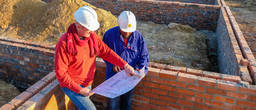 It is important to get to know who you are dealing with
RENOVATIONS PARTNER
#KNOW THE CONTRACTOR
COMPANY BACK GROUND
It is important to get to know who you are dealing with, a way in which this can be done is to request ownership information disclosures. This will eliminate issues with companies stealing clients property. Another way to check a companies background is to request a background audit. This will give clients more insight into the contractor and how they run their business. Registered companies normally worry most about the future and keeping new clients' happy while maintaining trust and a good relationship with past customers. Preference is placed on existing clients compared to once off customers who would be less impacted by poor quality supplies. A vetted service provider with no criminal record would give one more leverage for a positive referal.
REFERENCES CHECK
Before the service provider/contractor begins any work and before any quotes are given the client must request at least four service reviews, although seven would be recommended by the said contractor. This will ensure that an informed decision can be made by the client as gaining insight from previous clients allows for a detailed and honest review. Once the client has contacted most of the contractors previous customers a meeting should be scheduled with the contractor in order to discuss logistics and operations.
DRAWUP SERVICE LEVEL AGREEMENT
Once a client is satisfied with the quote for the job, the references provided by previous customers and the background check the contractor can be accepted. A service level agreement to bide both parties on the work agreed upon, quality of the work to be preformed, the timelines, and any penalties for work not done must be drafted. This will ensure that clients will receive a complete service and will eliminate new contractors having to overtake an incomplete job which causes issues.
AFTER MARKET SERVICE
Home owners often get worried and concerned about increasing cost estimates resulting from additional material being needed during the job. A common error is that rubble removal customers don't ask who is responsible for removing the rubble material to municipal dump sites. Ensuring open disscussions with contractors will aid in eliminating these risks. Using guarantees and warranty should be given, for a example paint which was well applied with 2 coats and primed accordingly should last 15 years. Clients should be able to call contractors years after the work has beeen completed related to any issues which arise immediately after the job was completed or even years later.
BE INFORMED