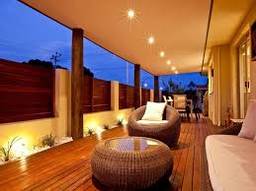 Building a Verandah
---
A veradah is an incredible investment for any home. It is a space that you will always be able to use whether it be for relaxation for entertainment.
Verandah Types
Flat verandahs – are the simplest and most versatile to design. Flat roofed verandahs can be attached to almost any building or as a stand-alone structure.
Curved verandahs – can be matched elegantly to another structure and can provide a neat bridge between existing structures. Curved verandahs can also break the flatness of straight lines
Bullnose roofed verandahs – these verandahs offer extra shelter from the elements and add a focal point to your home. Most commonly bullnose verandahs are constructed from powder coated corrugated iron.
Gable end roofed verandahs– This type of verandah is common to use if you want to use the verandah for something tall, for example extended out to park a car under. It has its own pitched roof, so can be a self-supporting structure as well as being attached to the house.
http://www.homeimprovement4u.co.za/directory/category/decks-patios-balconies/patios/patio-contractors-builders/
What to Consider:
Uses: What will the verandah be used for.
Features: Roof type, color, skylight panels and color, taking into consideration the style and design of your home
Size: How will the width and length of the verandah affect the light in the house and the size of your garden?
Height: If the verandah is attached to your house, will it need a gabled roof line in order to be tall enough and will a bullnose shape have an impact on tall people entering your home
Budget: Does your budget provide for or include extras such as skylight panels, gutters and water tanks.
Please see our homepage for more articles that may interest you;
Articles related to your search: