7 ways to cut down on building costs without sacrificing quality.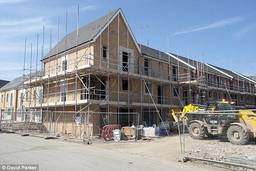 Vast Construction Projects
1. Buy materials direct from the brick manufacturer, you save 10% on the cost from other suppliers, it's not easy to find one that will sell bricks to you direct but they do exist. Downfall may be that they're a small operation and only supply. If you can't find better then perhaps you could try to find independent drivers for hire with 6 ton trucks that will deliver for you. They do exist and they could help you not only in deliveries but waste removal also.
2. Buy cement in bulk, if you have the storage space, we suggest doing a single order for cement, if you calculate your materials (including shrinkage) you shouldn't need to order cement again, this decreases delivery costs and could save you 1000's. Also a lot of suppliers have special deals on larger orders of cement.
3. There are a lot of salvage yards nowadays and they have great materials from roof trusses and beams to salvaged bricks and roof tiles. You could save huge on roof tiles and windows and door frames, you made need to paint them to get a consistent colour going, then again you may get lucky and get all you need in one order from one salvage yard. We've been that lucky a few times.
4. Research: Labor is a huge cost for any project, unskilled laborers trying their luck at putting one over you and lying about their skills will cost you wasted time and possibly a failed foundation job or even structural problems. We've heard countless penny wise pound foolish stories where the client used a "plumber" standing outside building suppliers. The client hasn't researched plumbing regulations and work procedures at all and buy all the materials that the plumber tells them without knowledge, only to find out later after plastering and painting completed and moving in without a proper pressure test on the plumbing lines, they had various leaks in walls and under tiles. – Please do your research and know more than your laborer does. They will quickly see that you're not to be fooled and they will run away very quickly.
5. Plan your building with excavated or demolitions waste in mind. Remember to plan way ahead after demolitions have been completed, do you need filling later on for house foundations, a garden slope you'd prefer to be flattened out level; a raised patio; you can use rubble as filler to these areas and save on waste removal costs or even backfilling deliveries due to lack of soil on site.
6. Too much excavated soil on site; nowhere to put it? Contact landscaping companies if they need your soil, they pick it up and you've saved money and headaches. Or you can post it as "Free Filler Soil" on free classifieds. Gautrain did that during their excavations and we took advantage then, we gathered about 10 trucks worth of good soil from Gautrain for one of our sites. We saved our client a lot of money, (about R1200 per load if we had to buy) they only paid for transport costs and labor as the site where we needed filling, couldn't be accessed by truck directly.
7. When shopping around for materials or fixtures (taps; baths etc) don't forget to ask your builder if he can get better discounts than you have, he may know suppliers where you could save bigger but need a contractors account to get them.
If you follow the above 7 ways to cut on building costs; you will find that you've already saved 10's of thousands.
Happy saving.
Articles related to your search: