Microwaves: Finding the perfect size and placement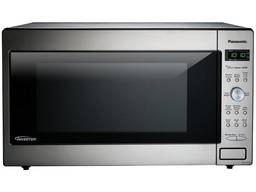 Microwaves are one of the most commonly used and convenient staples to any kitchen. Follow this microwave buyer's guide to determine where your microwave should be located, and what size will best suit your needs:
Location is one of the foremost considerations when buying any kitchen appliance. Depending on where you want your microwave to be located, you will have a different product in a different price range. Microwaves can be located on countertops, over-the-range, or can be built in. Countertop microwaves are the most common and affordable grouping of microwaves and are also easiest to install as they only need to be in the vicinity of a plug point to function. One of the drawbacks of countertop microwaves is that they can take up a lot of space.
Over-the-range microwaves are installed in the fittings of the kitchen above the stove or oven range. This type of microwave is more expensive, but does often come with vent systems that replace the need for oven hoods and can be installed with lights to aid vision in one's cooking space.
Finally, built-in microwaves can be installed into custom-made cabinets, or built into wall ovens. This is the most expensive placement for a microwave, but gives homeowners extra kitchen space, and can suit very specific design needs. Built-in microwaves can also be designed to take the form of drawers with a food compartment that can be pulled out.
When choosing a size for your microwave, make sure you consider both the internal capacity of the microwave, and its external size. The size of your microwave should be chosen with consideration for the types of meals and snacks you plan to cook, and the amount of space you have available in your kitchen for the placement of the microwave.
Microwaves can range in size from compact models, which are perfect for mini-kitchens, and extra large models, which can be up to 2 cubic feet in size. Extra-large models are perfect for large families who need to warm up, cook, or defrost food in bulk.
Other features to look out for when purchasing a microwave include moisture sensors that detect when food, such as raw meat, has been cooked through, LED lighting on the microwave interior to enable one to check how food is cooking, and microwaves with Bluetooth technology.