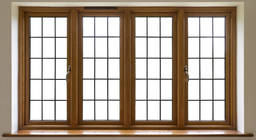 Wooden windows frames require regular maintenance to keep them looking good. Any timber product, and particularly wooden windows, are continuously exposed to the elements. If regular maintenance takes place from your behalf you should have beautiful wooden frames 24/7 in your home.
A lint free cloth in needs to be used that has been dampened with wood wax or any type of preservative, this will clean any stuck dust that may be on your window. You must also keep your eyes open for moisture damage or rotting, this will indicate that the coat sealer has failed and you may need to reapply some more. This usually has to happen every twelve to eighteen months, keeping an eye out for any small crack is also very importqnt when it comes to wooden windows, this usually means that the timber is drying out from constant exposure to UV rays.
If you are looking at the frame of the window look at the beading that holds glass panes in place. Any loose beading will result in lack of insulation inside a home. There are remedies to some of these problems, when you have the rot or mould in an area then you must use a fine steel wool and mineral turpentine. It may be necessary to remove severe damage with a wood chisel and then you will need to fill in the gap with wood putty before applying exterior sealing protector.