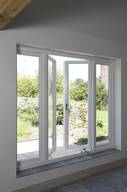 Casement windows are easy to use and can add lots of natural light into a room. They can get pricey but are a very aesthetic and convenient for a new modern look in your household.
A few common problems.
If a casement window's crank is not moving as easily as it once did, the opening mechanism will need to be looked at and will probably need some attention. Loosen the screw at the base of the handle, remove the hand and pop off the operator cover, then give a shot of silicone spray to any visible gears. Choose a frame that is suited for your convenience, this including the room it is placed i and how much it is used.
Try make sure that you are using an energy saving glass, window blinds often get caught and are sometimes damaged by the crank handle, this is why if you do have blinds over your casement window then you should get a blind friendly T-handle. These type of windows can also offer great ventilation, make sure if you have blinds that they sit high above these windows. Casement windows open outwards, the edges of the window are more exposed to the sun and must be checked up on regularly.
For more help and information of casement windows contact a proffesional in your area from our page.