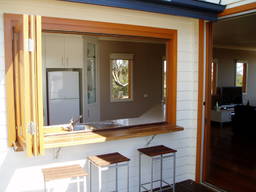 Bi-fold windows: for convenient design
---
Bi-fold windows are one of the most innovative, practical and attractive window designs available to homeowners. This style of window works through a folding mechanism that allows each half of the window to fold back into a neat and discrete vertical stack on opposite sides of the opening. This allows for a completely unobstructed view of the outside world with no interruption from window beams or frames.
One of the benefits of bi-fold windows lies in their simple and slick folding design. Homeowners can easily open and close windows in their homes without the hassle of pesky latches, rusty handles or stiff toggles. In addition to this, the roller-systems that bi-fold windows operate on to open and close are often more durable and long-lasting than traditional window structures. Roller-systems only need to be oiled every now and again to keep their operation smooth and will not rust or break down if a good quality product is initially installed. Bi-fold windows are therefore a long-lasting and convenient way to enhance a room as a slide to the left or right is all it takes for homeowners to have access to fresh air or beautiful views.
Bi-fold windows also have a design advantage in that they create a feeling of openness and spaciousness in a room. Bi-fold windows can also be accommodated into almost any shape of window you desire. Square, rectangular, octagonal and even triangular shapes are an option. Bi-fold windows also come in a range of materials such as wood, PVC or aluminum, and if the right selection of glass is made, they can be more energy-efficient than regular window designs. Homeowners can choose from a range of frame colors to perfectly suit the surrounding decor of the room in which they install their bi-fold windows
Finally, consider using your bi-fold window for more than just ventilation and views as bi-fold windows can also double up as a 'serving window' between a kitchen and a dining room or outside eating area.