How to clean your skylights like a pro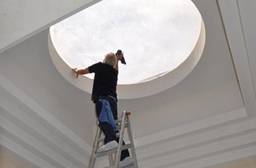 A skylight can lift the atmosphere of a room in your home by providing a serene view of the sky and taking advantage of natural light. However, keeping your skylight clean can be a challenge as these structures are often in high-up and hard-to-reach places that take a certain level of skill to access and safely work with. Follow these top tips to learn how best to clean your home skylight with safety as a top priority:
Firstly, it is vital to ensure you know the exact materials used in the construction of your skylight. Not all skylights are made of glass and many are made of hard plastic or other synthetic and clear materials. Therefore, avoid cleaning your skylight with ammonia or alternative window cleaners before you know what material you are working with or you will risk damaging your skylight.
For skylights constructed from polycarbonate or acrylic, liquid dish soap is safe and effective for home cleaning purposes. Make sure you have a sturdy ladder to reach your skylight, or if you are nervous about using a ladder, a long-handled mop fitted with a cellulose sponge.
To clean your skylight, climb your ladder and remove all dust from the interior of the skylight with a dry cloth. Fill a bucket with warm water and about two teaspoons of liquid dish soap and use a cellulose sponge to gently wash the window in circular motions. Once your skylight is clean, replace the dirty, soapy water with clean, cold water and wash away the soapy suds from the skylight.
When it comes to cleaning the exterior of your skylight, natural rainwater is often enough to take care of any large debris or dust that may collect. However, the outside of your skylight will not be clear and sparkling unless you can access the roof of your home to give it a regular clean from the outside. A ladder and power washer is recommended for this job to reduce the amount of time you will need to be on the roof of your home. If the angles of your roof are too steep and access to your skylight is difficult to achieve, employ a regular cleaning service to reduce any risk to your personal safety.