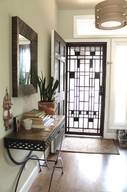 Security Screens and Doors
---
Many citizens in South Africa seem to forget that security is a basic human right. In order to make sure that living is of the highest standard and that this right is uphled, HomeImprovment4u leads its clients towards the best choices in security.
Security, especially in South Africa, is a major concern in the home. Prior to contrary belief, if the right precuations are taken, families are still able to enjoy a safe and secure lifestyle. There are a wide variety of security options available including; doors, screens, burglar bars and expandable security gates.
A secure home can still blend in with the architecture and design of your home. This means that your hard work in building and having a beautiful home and lovely aesthetics need not be compromised by an unslightly security system and physical security mechanisms.
Security Screens & doors will enable you to feel like you are outdoors, providing you with additional space which includes a secure and safe environment. Just as an added benefit, you will also be insect free. This makes a huge difference in suburbs and areas that have problems with mosquito's and bugs that can make sitting on a verandah an unpleasant experience. Security screens and doors are effective in ensuring comfort from serious to luxury matters.
Your view will not be compromised and can also guard against garden matter entering pool and verandah areas. Countless designs and options are available.
Most screen enclosures are custom made and therefore offer particular and personal styles, designs and colors to suit any homes. Repairing Security Screens & doors is hassle free as they are designed in panels, so if one panel is damaged only that panel needs to be repaired. Screen enclosures can be styled and designed to your requirements; consult with a professional for advice and cost. Depending on your own installer these can be custom made on site. Check with your local municipality if approval is required by a building inspector to install Security Screens & doors.
Types of Security Screens and Doors
Marine grade stainless steel mesh: is very tough, coated with black polyester which guards against corrosion. It decreases the amount of light and glare entering the space.

Fiberglass mesh: is an economical choice but is damaged by UV light and breaks down more quickly.

Aluminum mesh: performs better in UV light and lasts longer. It is more durable than the fiberglass and aluminum mesh. It is available in an aluminum color or charcoal shade increasing visibility onto your outside area.

Micro-sized mesh: is used to keep out very small insects.

Pet-suitable mesh: is suited to resisting the damaging behavior of pets in the home!
Please see our homepage for more articles that may interest you.