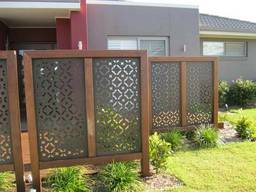 Outdoor Privacy screens are used for look and for convenience but only work their best when set up to the correct standard. Introducing them into your home can be a simple weekend job, these provide perfect privacy for family events and can add an aesthetic look to the house.
Privacy screens can be used in gardens for a backdrop for plants and as a way to hide bin areas or a bit of privacy for people in their gardens. Installing this can take a weekend if done correctly, For this you will need to have
Tools
Drill and drill bits
Measuring gear
Safety equipment
Shovel
Materials
Brackets
Concrete
Posts
Screen
Screws
Privacy screens have metal pillars that are cemented into holes that have been dug in the ground. The holes dug shold be a third of the length of the pole. It is also recommended that the concrete should be ready mix and not quick set concrete. It is also important to make sure the concrete is set before you cover it with sand.