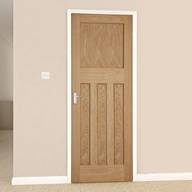 Time to decide on your internal doors and install them. This can be quite a hefty job but if done correctly can be done quickly and easily if done with the correct instructions. Choosing your new internal door is all based on your own personal design taste.
First thing you need to take into consideration is the size of your house and the age of your property. More modern houses have all feature similar sized door frames. Door constructions come in two types, flush and panel.
Flush Doors.
These doors have a flat, smooth surfaces that are typically painted or stained with wood stains, they do not have distinc features but they blend in with a house design very well. There are a few types of these doors like hollow core flush doors which have been built into houses for years. They are low-cost, lightweight doors, they are relatively easily damaged and have considerable soudn transfer.
Panel Doors.
These doors are made from a framework of horizontal rails and vertical stiles that frame flat or raised wood panels or, in some cases, glass panes. This type of construction is suited for solid wood doors, this will lessen the chance of the wood warping in the variaying heats.
Installing the door should be easy enough. It should come with the necesary hinges for that door, you will have to measure where two hinges will have to go. One is usually place on top and the other at the bottom the measurements for this are usually 15 cm from the top of the hinge to the corner of th door. These must be screwed in with a drill and a screwdriver, place the door on top of a plank of wood or a magazine to place it at your prefered height. Then screw the hinges into the wall and secure all holes necessary.
For more help contact a proffessional in your area from our site