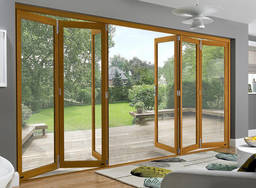 Bi-Fold doors have slowly become more popular in the modern day homes. They look sleek, let in light and join up our homes with our gardens. If the weather changes you can simply open or close your doors without any difficulty or fuss. They only become a problem when you look at the price.
When buying a Bi-Fold door it is important to look at the material it is made out of. There must not be anything to prohibit the door mechanism from oprning and closing. This is why it is highly recommended to have metal doors over wood. Each door should be supported with several strong hinges that use stainless steel or some other weather proof material. This will make sure that the panels stay precisely in line ensuring that opening and closing requires the minimum of effort. Strong hinges will mean that your door will last longer and you will not have to worry about safety problems and replacing the hinges.
You need to balance secure locks with ease of opening. Look for a secure deadlocks which only need a single key and can be opened from inside or outside. Intermediate panels should have a locking system that will prevent the slides from coming off the tracks. Look for doors that have air vents so you can air the room, these should also be sealed to keep out the bad weather. Choose a manufacturer that includes accredited, insurance-recognised locks – at least a five-lever key cylinder – as standard. It's worth looking for an internally glazed system, as with an externally glazed design it could be possible that the beads are removed and double glazing from outside to access the property.