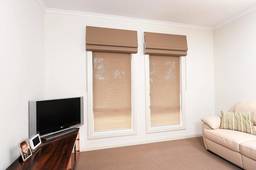 A window should be able to provide maximum natural light and ventilation to the room. Roman blinds are suited exactly for this, their variety of styles, colours that can be applied to them, make them very versatile. Roller blinds make for a great window treatment for any room, they come in a variety of styles.
Roman blinds versatility gives them the chance to look as beautiful in any roomof the house, they are great for insulation and can make any room feel homely and bring a large amount of aestheticto the room, if the correct choice of style and colour are made to suit the room these roman blinds can do nothing but good for you. When looking at your kitchen and bathroom areas it is important to remember that roman blinds will not be suited well in areas wherer it is damp, the fabric is not made for these enviroments.
Roller Blinds are fantastic for certain rooms, these rooms usually have a large window or a very nice view, there is a choice of hand operated or mechanised, thisallows you to choose if you are wanting a more futuristic feel to your house. If you do not wish to have one large rollerblind you can opt to have setional blinds, this will allow you to choose between which light you let in and how much. When it comes to chosing your material, this will all depend on the room you are in, as is already seen with the roman blinds certain fabrics cannot handle damp rooms.
For installation and more information conatct an expert in your area on our page.