An easy guide to cleaning your blinds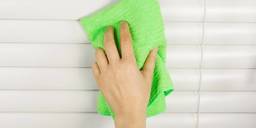 Keeping your blinds clean has more than just hygienic benefits. Clean blinds look better, last longer and are less likely to need repairs or replacements, which saves you money. Maintaining your blinds need not be a time-consuming hassle if you follow these easy steps to keeping your blinds in perfect shape:
One of the most effective and easiest ways to clean your blinds is with a vacuum cleaner. Make sure you vacuum your blind's slats horizontally rather than vertically to ensure they are properly cleaned. A lamb's wool duster, which is gentle but dense for thorough cleaning, is another good tool to use when cleaning your blinds.
When dusting or vacuuming your blind's slats vertically, make sure you move your cleaning tool from top to bottom over the slats, as moving a duster or vacuum cleaner from bottom to top could unhook the slats of your blinds.
If your blinds are made of fabric or are vinyl, the perfect cleaning tool is a rubber sponge or dry sponge, which can be bought at any hardware store and is extremely effective in the removal of dust and other debris.
For wooden blinds, make sure you only dampen them a little when cleaning, as soaking them completely can generate mildew. Metal blinds can be cleaned by laying them down outside and using dishwashing liquid, water and a cleaning brush to gently scrub the metal slats from side to side, on both sides. The soapy water can then be washed off with a garden hose and the blinds can be sponged dry.
When it comes to cleaning a specific dirty spot on your blinds, an all-purpose cleaner can be sprayed onto a clean cloth to then remove the stain. Never spray chemical cleaning solutions directly onto your blinds are these substances can cause damage and discolouration if they are directly applied.