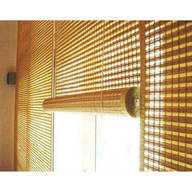 Bamboo blinds can add a nice natural touch to your house. They are reasonably pricey but are easy to maintain and put up. With a few simple tools you can have your bamboo blinds set up in your house to give your room the natural flow of light through them.
The first step to putting up your bamboo blinds would be to mark with a pencil where you want to hang the shades in your room, you will be marking the wholes through the triangular rings at the top. Next you will need a power drill, this is so you can drill into the wall with the correct sized drill bits. WHen this is done screw in the hooks that are needed to hang up the blind. The blinds will then sit on the hook and your bamboo blind is installed! After you have done this make sure the job has been done properly by checking if the strings are allinged properly around the bottom of the shade.
When it comes to maintaining your blinds so that they are clean and not wearing out, you must regulary brush the blinds of any dust. You can then use a vaccuum cleaner with a soft brush so that there are no scratches on the bamboo, this is important as i can result in serious damage. Some people also choose to clean their bamboo blinds in water once in a while, this can be done in a bath, all you have to do is have a tub filled with warm water that has any type of natural oil cleaning substance. Soak the blinds for a few minutes then brush with a soft cloth or brush, this should remove any extra grime easier.