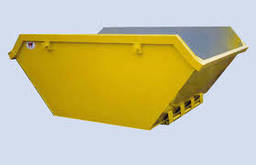 Skip Bin Hire
Most home improvement projects require the disposal of waste material and the best and possibly most efficient way to do this is to hire a skip bin. The skip bin is delivered to your property and collected on an agreed date and of course the hiring company will also dispose of the waste for you.
Consult with the skip hirer before making a choice; they will be able to advise you on the size and type of skip that will suit your requirements.
Something to consider is please make sure the truck delivering the skip has access to your property especially in the case of larger bins. Check with your local municipality if you require permission. The truck needs to be able to set down and pick up the skip again. If you are unsure ask the company to come and do a site inspection and they will be able to advise you. Don't overload the bin and check what materials may be loaded into the bin, some exclusions may include asbestos, food waste, batteries and chemicals!
Cost
Cost is usually determined by type of waste to be loaded, (general or commercial), bin size, hire period and also if the skip needs to be emptied daily, weekly or just at the end of the hire period. Shorter hire periods are usually cheaper and sometimes there is a minimum hire period.
Please see our homepage for more articles that may interest you,