The lmportance Of Business Security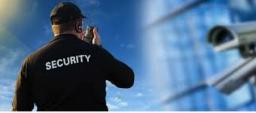 Appropriate security measures should always be in place to protect all aspects of your business regardless of what kind of premises your business operates from.
The lmportance Of Business Security
Appropriate security measures should always be in place to protect all aspects of your business regardless of what kind of premises your business operates from. Be it a Car Dealership,Church,Hospital,Jewellery Shop, School,Coffe shop etc ,security is of paramount importance as it retuds and dwindles loss of valuables,information and personnel hence you need a Security Risk Mitigation Officer to Assess , analyze and develop mitigation strategies .
Premise security planning and crime prevention
With the use of trained,qualified and experienced security guards that are constantly monitored through the intergration of sophisticated technology to deliver effective and efficient patrols ,their presence deters security hazards/threats that can damage your business and threaten the livelihood of your employees as well as your internal information.Security is no more a want but a need indeed.
Security threats may include

#robbery
#internal theivery
#sabotage
#vandalism
#ICT (information communication technology) breaches
#violence against staff
That can be promoted through
#Inadequate lighting on the premise
#geographical location of your premise in general
#signage
#landscape
# building design
#fences, gates, doors and windows
#power supply
#information and computing technology
#alarms and surveillance equipment
#cash handling
#car parks
Amoungst others.

To prevent these kinds of incidents, you need a *business security plan* , which includes a security *risk assessment* .
You should identify threats to the safety of your staff, and implement measures to protect their security.
NB: DID YOU KNOW?
As a business owner ,you are legally responsible for making sure your workplace is safe for your staff? And what measures do you currently have to make sure of that?

You must implement measures to ensure staff safety. In the event of a security breach such as a robbery, the safety of your personnel is the first priority.

IT security is also paramount, as it serves to protect your data and IT systems should also form part of your business security plan.

All businesses need to secure their data and IT systems against external threats. This includes computer systems, hardware and software, as well as telecommunications equipment not to fall in the wrong hands
Furthermore,
Take into account premises design and layout to correctly identify and manage security threats.Assess the building layout and design in your business security plan whether the building was designed specifically for your business or not ,also the placement of entry and exits for easy monitoring by staff
adequate lighting, particularly in the product and sales areas
the layout of the product area – should be spacious, and customers always in view
secure counters for staff, perhaps on raised platforms

So How Do we go about it?
The first step in developing a business security plan is to undertake a business security assessment. This helps you identify the possible security threats to your premises, and makes it easier for you to adopt measures to curb all the potential security threats.
Secondly the developmet of counter security intelligence to prevent ,retud and dwindle the threats(prevention is better than cure )
Thirdly ,the implemantation part and the Re~assesment on the effectiveness and efficiency of the security plan.
Get a free Business Security Assesment today
And let our team do what they know best while you concentrate on what you know best ...business.