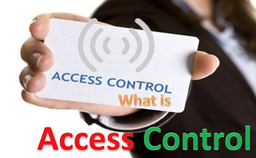 The access control problem is one we have been facing for years, but is it one we have solved?
The access control problem is one we have been facing for years, but is it one we have solved?
While the problem is a modern one, it is also one we have been dealing with for thousands of years; cavemen would have needed to protect their cave and people as much as we need to protect our home and family now. In fact, the problem of effective access control has grown exponentially with the ever increasing sophistication of criminals. It has become a problem of some magnitude but one that luckily is far easier to address by modern man's technology than the poor caveman having to roll big boulders in front of his pad's openings! Fortunately, as the criminals toolkit expands - so do ours.
Today, the security industry has an answer for every problem relating to access control – the trick is in bringing the correct solution to the specific problem at hand. What, then, is the solution to controlling access to a specific area or place, how difficult is it to implement and how much is this all going to set someone back?
At the heart of any access control system is the physical obstructions which will prohibit access (at best) or channel access to a certain point at the very least, and the variety of these obstructions means there is a variety of solutions.
Access control systems are everywhere, but you might recognise them most as these:
Vehicle boom barriers at almost every shopping centre, security villages, golf estates and parking garages. They take many different forms, such as:

manual booms operated by a security guard
automatic boom barriers that dispenses cards
Spike boom barriers at places where security is of high importance.

Automated turnstiles for pedestrian traffic in the form of:

glass mantraps
revolving doors at banks and jewellery shops
single or double metal turnstiles at sport stadiums, security estates and mines
Accessed controlled doors at offices and shops
Access controlled sliding gates at office parks
Automated garage doors at residential homes
There are also many different types of locks, such as:
Electro-magnetic Locks (Maglocks) that have to be deactivated in order for a door to be opened. These locks are purely used to control access however and are not to be seen as a security device since they will release the door when they run out of electricity
Striker locks are also of the electromagnetic variety, but are less obtrusive since they replace the normal lock in a swing door
Dead bolt locks are commonly used in safes and strong rooms or other places of high security value such as safe-havens
The way in which we as service providers install and incorporate some or all of these solutions will differ from customer to customer. All our actions are supported by years of experience in the field servicing a large variety of clients, which means we are also comfortable explaining all aspects of the job and products to our customers so they know exactly what is happening.
This brings us to different methods that can be employed to make sure that only those with proper and up-to-the-minute official permission will be able to enter or exit an access controlled space:
Magnetic tags or remotes – In the industry, we call these 'dumb systems' since anyone with a card or a remote button can gain entry or egress and there are no data-logs which can be accessed at a later stage. Cards and remotes also get lost or can be distributed from person to person, so there is a lot of access but no control.
PIN pads – Widely used, this basic form of access control is effective for smaller jobs but not very efficient as someone with just a bit of technical knowledge can bypass the pin pad quite easily. The nature of the code also means it is very easy to pass on to someone else and your security could be very swiftly breached.
Biometric systems – These systems use finger prints to operate the access control system. The very basic systems can be tampered with but the better quality ones are nearly fool proof. The only real drawback is that there are about 3% of people with fingerprints that cannot be read by the sensors, such as the elderly or people in the building industry with very rough hands. Therefore, biometric systems are often used in conjunction with PIN pads or 'smartcards' for this very reason.
Facial recognition systems – These are becoming more prevalent since some smart phones employ the technology, but as is the case with the biometric systems, the basic ones (2D-based) are not fool-proof. The more sophisticated and secure models are used at places where security is of vital importance, like an airport.
The systems mentioned above are considered common, but there are newer technologies that are beginning to make waves in the industry. These include retina recognition and the ability to use your smart phone as an access control mechanism, but at this stage of their development cycles neither is used frequently.
It is important to note that good access control is more often than not part of a bigger picture when used as a security solution – one might find that it will function best in conjunction with, for instance, It is therefore important to talk to companies that can offer a turn-key solution.
While access control systems are very effective at what they do, they are most effective when utilised as part of a larger security set up. One might find that it will function best in conjunction with, for instance, alarm systems, CCTV Systems, electrical fences and guarding services. This is why it is important to talk to companies that can offer a turn-key solution.
At Motiontech Security Services, we have:
The expert knowledge to design cutting edge solutions
The technical infra structure to install and maintain any solutions, small or large
The ability to ensure that our many existing and future clients have peace of mind with guaranteed workmanship, superior products and reasonable pricing structures at the core of our business
If you want to find out more, please email us at info@motiontech.co.za or browse our site www.motiontech.co.za for more information.